martes, 20 de enero de 2015
lunes, 12 de enero de 2015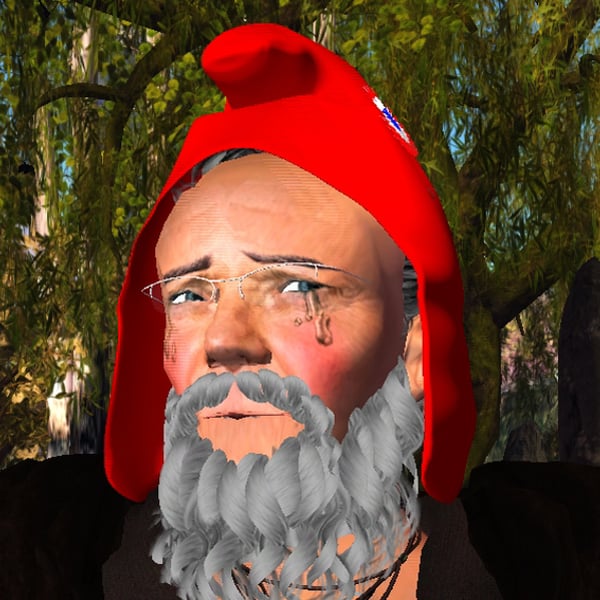 Tres vídeos de animación con temática celta creados por
Celestial Elf
Gwydion Caer Wydion - the Celtic Bard born of the Trees, at 'the Castle of Gwydion' which was the traditional Welsh name for the Milky Way ie under the Stars ~
Gwydion here recites a verse from the Cad Goddeu or The Battle Of The Trees, In this section he is declaring his magical lineage and shared spiritual existence with the underlaying forces below and beyond nature, he is a poetic shaman of the highest order.
We see many details about Gwydion exisiting as diverse beings in this poem. The Shamanic technique of flight which encompassess many transformations is often expressed, evoked and even facilitated via the Bardic power of the word, the hypnotically chanted word, the alliterative or allegorical poem, and the very wings of the song. As such, i'm sure that many will easily recognise, tales, poems and songs do indeed hold a trsansformative power over our individual awareness and ensuing spiritual essence, empowering changed perceptions and consequently lives and worlds..
More details at my blog The Dance Of Life ( http://bit.ly/RSqCTe )
Soundtrack created with music grateful thanks to;
Royalty Free Music via Looperman ( http://www.looperman.com/loops )
Filmed on SecondLife via Snowglobe 1.4.2 and Exodus Beta,
Made using Fraps, Serif MoviePlus X3 on Windows 7.
Conceived, Directed and Produced by Celestial Elf 2014.
I have set Taliesin's Battle Of The Trees within two other pieces of writing,
firstly Tacitus' report of the Roman invasion of the Druid island of Angelsey,
followed by another poem by Taliesin which had been mixed in with The Battle of The Trees in a method of concealment to hide the poems meaning from those without understanding.
For the written poem and more details about its meaning, please see my Blog;
( http://celestialelfdanceoflife.blogspot.com/2011/07/battle-of-trees.html )
The Book of Taliesin is attributed to the 6th C. poet Taliesin and preserves a few hymns, a small collection of elegies and also enigmatic poems such as The Battle of Trees and The Spoils of Annwfn, in which the poet claims to have sailed to another world with King Arthur and his warriors.
The Battle of the Trees poem itself famously details the legendary Gwydion's account of the trees of the forest which he enchanted to fight as his army against Arawan.
Within the ranks of Arawn's forces were a number of mighty warriors, and one of these was invincible as long as his name remained a secret.
Gwydion the enchanter rightly guessed the secret name and won the battle saying these words:
Sure-hoofed my spurred horse,
On your shield Alder sprigs,
Bran is your name, Bran of the branches.
Sure-hoofed my horse of war,
On your hand are sprigs of Alder,
Bran you are, by the branch you bear.
However as Robert Graves explores in his book 'The White Goddess'
( http://www.amazon.co.uk/White-Goddess-Historical-Grammar-Poetic/dp/0571174256 )
the poem is particularly notable for its striking and enigmatic symbolism and the wide variety of interpretations this has occasioned.
Graves suggests that the trees in this poem correspond to the ancient Ogham alphabet, in which each alphabetic character represents a specific musical note, seasonal cycle, mythological tale and deity.
Graves thus argued that the original poet had concealed Druidic secrets about an older matriarchal Celtic religion for fear of censure from Christian authorities, that Arawn and Bran were names for the same underworld god and that the battle was probably not physical but rather a struggle of wits and scholarship: Gwydion's forces could only be defeated if the name of his companion, Lady Achren ("Trees"), was guessed, and Arawn's host only if Bran's name was guessed.
Cast;
As Taliesin and The Bagpipes, Celestial Elf.
As Witches: Brooke Baran, Minxy Kimono, Sienna Panthar, Wicked2712 Bearsfoot,
As Druids: Mikee Martian, Obizoth, Yichard Muni,
As Celtic Warriors: Azzaro, Donjulio Siamendes, Scheer Eberhatz.
All Also doubled as Tree Avatars.
Grateful Thanks to Taliesin the Bardic Poet, and to Robert Graves for his inestimable research,
to Tacitus for recording Cornelius Tacitus historical account of the Roman attack on Angelsey, Annals XIV.
Also to Freesound.org/
for use of their music and audio samples from which I created the soundtrack
Creative Commons Sampling Plus 1 Licence
http://creativecommons.org/licenses/sampling+/1.0/
Many thanks to
Sliver Gray for providing Dryad Avatars, Auburn, Sapling, Nelroth and
Lazrith Fardel for providing Alder and Dark Treant avatars,
Other props include Bagpipe Bird Avatar by Nowhere Phobos,
The Ent by Papadopoulus Barzane,
Piscium Navis Houseboat by Marcus Parrott.
Filmed at;
Gaia, co Enchantress Sao,
Ruins Falls, co Sliver Gray,
Tir Na nOg at Mystica co FreeSky Republic
Filmed on SecondLife via Phoenix 1.5.2.908,
On Windows XP using Fraps and Serif MoviePlus X3.
Casting Coordinator Sienna Panthar,
Conceived, Directed and Produced by Celestial Elf 2011
An ancient Celtic poem which speaks of the origin of the Universe, the nature of the Gods and the path to Wisdom.
In my film version, King Arthur having recovered Bran The Blessed's talking Head, brings this head to a Samhain gathering where Bran recites The Song of Amergin to the assembled gathering;
I am a Stag of the seven Tines,
I am a flood on the Plains,
I am a wind over the deep Waters,
I am a shining tear of the Sun,
I am a hawk on a Cliff,
I am a wonder among Flowers,
I am a God with fire to fill the Head,
I am a battle aging Spear that roars for Blood,
I am a Salmon of wisdom in a clear Pool,
I am a hill of magickal Poetry,
I am a wild Boar, ruthless and red,
I am a breaking wave of the winter sea.
Who but I invokes the ages of the moon, knows where the sun rests?
Who but I gives birth to all that was, that is and that shall be?
Who but I knows the secret of the unhwen Dolmen?
Poem by Amergin, translation by Robert Graves;The White Goddess.
( http://amzn.to/qITYS7 )
For more details please see myBlog The Dance Of Life here
( http://bit.ly/qnPFA9 )
Cast;
As Bran, King Arthur and Amergins Animals (co Grendels Children), FreeSky Republic,
The Voice of King Arthur, By King Arthur Pendragon,
Celtic Warriors, Pagan Fetivalees and Ghosts;
Benno Sands, Bonnie Gladstone, Cartier Attenborough, Jasmin Nansen, Katherina Auer, Lolita Xaron, sann Release, Vapax Uggla, wicked2712 Bearsfoot.
Filmed at;
Anam Turas, Gaia Rising co Enchantress Sao,
Beond The 9th Wave, at Mystica, co FreeSky Republic.
Many thanks to Laufey Markenstein of Trident for providing;
Druids Altar, Bone Fire, Lama Bobbing Barrel, Pumpkin Carving Log, Carved Pumpkins,
And to Luna Barak for the Druid Tree.
Also appreciated permission to use;
Head Be Gone co RaggedyMortis Haystack,
Bodiless Head; Lucas Gerard/Nimil Blackflag:
Soundtrack created with samples from
Kevin MacLeod ( http://incompetech.com/m/c/royalty-free/ )
Private Reflection, and Medusa,
Creative Commons Licenses Attribution-ShareAlike 3.0
(http://creativecommons.org/licenses/by-sa/3.0/)
Also Freesound ( http://www.freesound.org/ )
Creative Commons Sampling Plus 1 License
( http://creativecommons.org/licenses/sampling+/1.0/ )
jueves, 1 de enero de 2015
Mileth
folk rock desde Galicia
Dana da Carballeira - Voz, coros, percusión. Marcos do Relicario - Brúos, coros, guitarras, bouzouki, whistle, zanfona, percusión tradicional. Cristian da Limia – Baixo, bouzouki. Rebeca da Bouciña - Teclados, violín, coros. Elías do Eido do Clariño - Violín, coros, percusión tradicional. Carlos do Castro - Batería e percusión.
Moradores da Casa de Donn: Diego dos Chechos - guitarra e co-fundador de Mileth (2009-2013). Adrián Levices - Baixo (2009). Ida Strömgård - Voz (2010). Pisco da Taberna – Batería (2010-2013). Raquel de Ghallas – Teclados (2011-2013). Alex O Pirolas - guitarra (2013). Inferno do Morrazo - Guitarra (2014)
Pagan Metal Galaico / Vigo